Alyssa and I wanted to try a program free of fandoms. We finally decided on a room decorating program. Knowing that tweens are trying to find themselves and their own decorating style, we thought this would be a great DIY program for our tweens to explore.
When looking for ideas on decorating, we of course looked to Pinterest for help.
Alyssa found these wonderful ideas that we turned into stations.

For this first station, our building and grounds department donated a bunch of paint samples. With this, all we did was set out a piece of poster board, scissors, and glue. We had two girls that spent the entire hour camped out here. They were super crafty and decided to use their time finding colors in the paint samples and an arrangement they liked. From there, our participant wanted to put the paint samples in an old frame from the Dollar Tree. She thought she could better recreate a reusable calendar like in the picture above. It made me so proud of my crafty little tween.


This was the most
popular station
. For this station, we just set out a collection of mattes, paint, and masking tape.
Using masking tape, we invited participants to make patterns or words. From there, participants used paint to paint over it. They turned out really neat! I wish I had taken pictures. If you do decide to try out this station, however, I would caution the use the paint. It got very messy! Always have a staff member on hand or at this station in particular.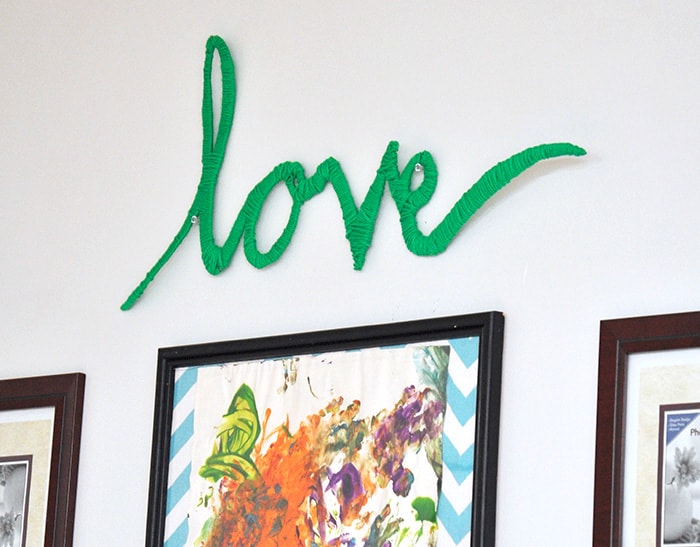 Using cardboard, participants drew and cut out a word. Once they cut out the word, they covered the cardboard in yarn. This was the most challenging station, and the only one that I would not repeat again. We ran into the issue of not being able to cut out the cardboard easily. Alyssa and I spent the whole program rushing around trying to get these cut out for the tweens. We did not take into account how difficult it would be. There were a few tweens who really enjoyed this station, but if we repeat it again, I would like to use a different material.
Station #4:
Online Room Decorating
We knew not everyone might not want to actually create something. To help meet this need, we set out a computer and allowed the tweens to create an online room. In addition to adding some variety to our program, it also helped to spark some ideas for room decorating.
Station #5: Get Inspired
For our final station, we had decorating books set out. The purpose of this station was to hopefully spark ideas & to show off our collection.
How it Went
This program went over very well. Our primary audience was tweens girls, but we were not surprised by this. We got a lot of positive feedback from parents whose tween wanted to get rid of their childhood bedroom and needed ideas and outlets for it. They appreciated the cost friendly ideas we provided.
I personally really enjoyed hearing the feedback from the tweens. They were so excited make decorating pieces for their room. This was also an easy program program for us and it we just recycled materials that we had in the department. So it was budget friendly as well.
In the future, I would like to repeat this program. I think it would be a great way for us to reuse some of the supplies we have and it would also be another outlet for tweens to explore.
Have you done a program like this before? How did it go?
Until next time,
Pamela