Young Adult Monday!
I am participating in the Hub Challenge.
This is the first book that I decided to read from the challenge.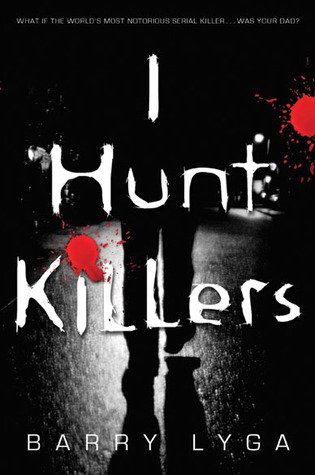 Release Date- April 3rd 2012
The Story
Jasper Dent's father is the world's most notorious serial killer. As his father hunted for his next kill, he took Jasper with him & trained in ways to kill. After 120+ kills, his father is finally caught and taken to jail. Four years later, Jasper is trying to live a normal life & shake off his father's disturbing lessons, but something happens in his home town of Lobo's Nod that doesn't allow that to happen. Dead bodies start to show up. Jasper's dad is in jail, could the sleepy town of Lodo's Nod have another serial killer on their hands? To help prove that Jasper is not like his father, he is determined to help to solve the case. Jasper teams up with the police to find the killer, but this case might have more connections to Jasper then he knows.
My Review
When this book came out, I was in my Jr. year of college. With school work piling up, I had no time to read it. I am happy to report that I finally got to it! As dark and disturbing as this book was, I could not tear myself away from it. It was the first book I have read in a long time that I stayed up late telling myself "...just one more chapter!" Jasper is a unique character. The mystery of the book itself was compelling. At one point, I suspected everyone as the killer. It was the perfect psychological thriller, but at times I wonder if this might have been a better adult book? Since it is dealing with serial killers, the book contains a lot of violence, sex, and gore. Even though it was wonderful book, I would only recommend it to my mature young adults.
I have to give this book 4 stars!
If you aren't already participating
YALSA'S
The Hub Book Challenge,
you should! Here is the information on the challenge:
Also here are the list of books to read for the challenge:
You have to read 25 of the books on the list before June 21st.
This list contains a lot of wonderful need to know YA lit & you get rewarded for reading them! YALSA is just that awesome. I would love it if you joined me in this challenge!