The Testing
By: Joelle Charbonneau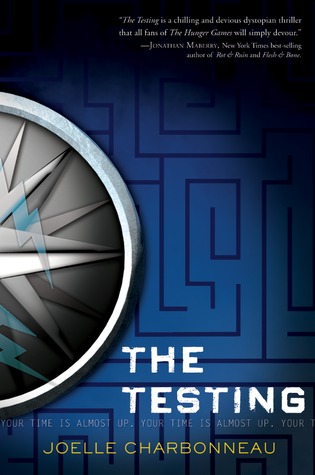 Keep your friends close and your enemies closer. Isn't that what they say? But how close is too close when they may be one and the same?
The Seven Stages War left much of the planet a charred wasteland. The future belongs to the next generation's chosen few who must rebuild it. But to enter this elite group, candidates must first pass The Testing—their one chance at a college education and a rewarding career.
Cia Vale is honored to be chosen as a Testing candidate; eager to prove her worthiness as a University student and future leader of the United Commonwealth. But on the eve of her departure, her father's advice hints at a darker side to her upcoming studies--trust no one.
But surely she can trust Tomas, her handsome childhood friend who offers an alliance? Tomas, who seems to care more about her with the passing of every grueling (and deadly) day of the Testing. To survive, Cia must choose: love without truth or life without trust
Review:
I'll be honest, this was not a book I would have picked up on my own. My first thought after reading the summary was, "This is going to be a bad knock-off of the Hunger Games and Divergent." "The Testing" was nominated for our 6th-8th grade state award, so I read it to discuss on an outreach visit to an intermediate school. After reading the book, I can verify that my initial reaction was correct for the most part. However, I do think teens who are still dystopian fans will enjoy this one.
Cia and Tomas are exceedingly flat and, frankly, boring characters. I could not connect with either character and had difficulty forming a good picture both her and Tomas in my mind. In addition, their romance has little substance and is poorly executed. This criticism; however, stems from my desire for all books to be well written and will probably not even be noticed by the teens. The plot was a little disturbing, but gentler than the Hunger Games. One of the issues I have with this book is that it cannot stand on its own. There is no way to read it without comparing it back to Hunger Games and Divergent. I did enjoy the survival/living off the land aspect of the plot. In addition, the plot progression kept me engaged for the most part. It was just interesting enough to give me the fortitude to finish "The Testing" and is the only reason I gave this two stars, instead of one.

How do you weigh in on the dystopian argument? Are you a hardcore fan or just ready for something fresh?

~Alyssa