Art Heroes
I have been working with the amazing Ms. Sarah on doing a story time with art and music heroes in history.
I am really blessed to have a mom who studied to be an art teacher & brought art and books into my life at young age. So I was really excited when Ms.
Sarah
approached
me for this series.
For the month of July, we have started on our Art Heroes series.
Last week, our first art hero was Henri Matisse.
Ms. Sarah opened with having the kids
dance to the song
Rainbow of Colors by The Wiggles
with scarves. I find scarves a little intimidating. I was so glad Ms. Sarah was there for support. The kids really enjoyed this.
Next, I prepared a quick overview on Matisse. I was going to open with this but the kids were a little antsy so I just included some of these facts as we read the book.
Henri Matisse was a famous artist, but he wasn't always an artist. He was a lawyer.
One day when he got very sick & was bed ridden, his mom bought him a paint set to help pass the time. It was then that Matisse realized that he wanted to become an artist!
He stopped being a lawyer and became an artist instead. He spent many years making beautiful art. The people of France referred to him as a "wild beast" because he used color & shapes that were not used before. When Matisse got older, he could not move around very well. He could not leave his house, but did that stop Matisse from doing art?
He came up with a technique he called "painting with scissors" this allowed him to bring color to his room.
The Book
Once we finished up with the book, we watched a Youtube video of
Matisse at work
.
The kids really enjoyed having a chance to see Matisse at work.
Following this video, Ms. Sarah read a portion of this book.
This book is little long, but it shows different shapes and how those shapes could make a picture.
This was a great introduction to our craft which was having the kids "paint with scissors" to create their own art piece.
The Craft
To have the kids paint with scissors, Ms. Sarah set out scrape paper from our accucut machine and allowed the kids to find shapes for their picture. Since we have been having some toddlers show up, I also cut out some paper for them to glue.
(The 4-8 age group is a tricky one, but many kids took this sheet home with them).
With these stations, I also had a Museum of Matisse where I displayed some of Matisse's artwork. I wanted the kids to see how his artwork progressed and get a sense of his work.
The kids really enjoyed these crafts. I loved watching the kids turn their heads back and forth trying to make out a picture with their scrape paper. One little girl made a horse and castle with her paper. It is always impressive to watch what the kids can come up with.
Finally to end this program, I invited the kids to take home some books on Matisse. Here are some more great books on him and his work.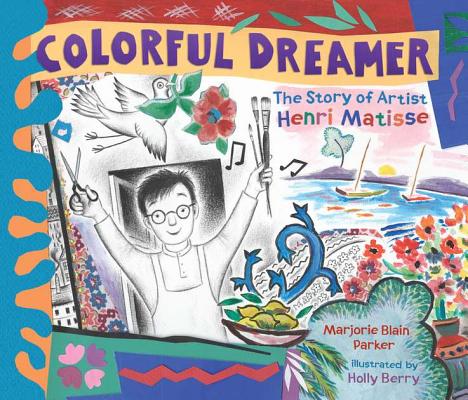 I hope you were as inspired by this as I was.
Until next time,
Pamela