I volunteered to teach training on the Truman awards for my library district. The Truman awards is a Missouri award for grades 6-8.
Here are some basic requirements for the Truman Awards:
(
Truman Awards
)
One of my favorite books from the Truman awards is called Insignia.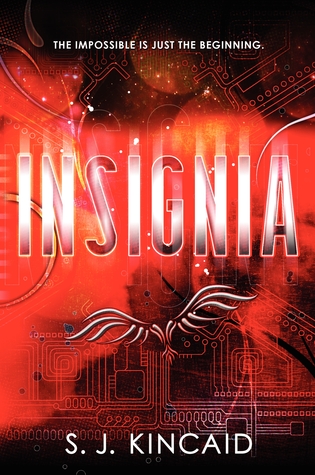 In the book Insignia by S.J. Kincaid, WWIII has erupted. The war has gone to video games and is now fought by teenagers. The enemy is winning, and Tom Raines may be the key to winning.
Tom is a 14 year old boy whose has an unstable life thanks to his father is an obsessive gambler. When the military comes to recruit him,
Tom is taken to military headquarters, he is given the choice of getting a computer implemented into his brain, or going back to his unstable life.
The computer will allow him to become smarter, look more attractive, and have the opportunity to fight in the war.
Unfortunately, it also has some risks, many have died with the implementation. It also has the possibility of getting hacked by his enemies and he could even get a computer virus.
Now Tom must use this new device to fight in the war, but is he just a piece of military equipment?
Tom must figure out who the real enemy is before it is too late.
Review
I really enjoyed this book. It reminded me a lot of Ender's game, but it is really funny. I was surprised at how much comedy was in this book. Kincaid captures the personality of a teenage boy, and she also captures the friendships. I think the friendship aspect is why the series has been compared to Harry Potter. I do not want to give anything away, but I really enjoyed this book.
Tween you & Me Must Knows
-The movie Rights have been purchased by 21th Centruy Fox
-It has gotten a lot of attention. It has even been compared to the new Harry Potter.
The author S.J. Kincaid does free Skype visits. This is a great way to connect reader's with the author. I believe this series will get more popular after the movie. While it is free, it is a great time to get that in! I know I am planning on doing this.
After reading this book, I am ready to read the series and get on with my program for my book club!
Have you read Insignia? What did you think of it?