Dr. Fell and the Playground of Doom
By: David Neilsen
The Story
A large brick house that has been for sale for many years has been a playground to children for many generations. It has been Gail, Jerry, and Nancy's personal playground. When the kids notice a sold sign, they feel like they have lost a place of their very own. Naturally, in their disappointment, the new owner appears and introduces himself as Dr. Fell. As he introduces himself, he asks why they are upset. The kids explain that they are disappointed that they have lost their playground.
The new buyer takes to heart the children's disappointment.

In no time, the people of the neighborhood notice to trucks full of items arriving to Dr. Fell's residence. One day after school, the kids find that a large wooden structure has taken form in front of Dr. Fell's house. It is the biggest and best playground the kids have ever seen, but Gail, Jerry, and Nancy can't help but feel like something is wrong.

At first, the playground attracts a small amount of kids, but then the playground begins to attract kids from other towns.

Pretty soon, someone gets hurt. Dr. Fell comes to the rescue and is able to heals broken bones and injuries that comes about within hours. Gail, Jerry, and Nancy are the only ones that can withstand Dr. Fell's spell. They must find out who Dr. Fell really is and why kids in the neighborhood are acting so strangely before it is too late.
Thoughts
Mr. Neilsen is a master story teller. I instantly fell in love with the story and with the purple top hat wearing Dr. Fell. Neilsen cleverly based this book off of the nursery rhyme I Do Not Like Thee, Dr. Fells. In case you are unfamiliar with this rhyme, here is a video:
I Do Not Like Thee, Dr. Fells Video
The story itself is spooky, but it still manages to stay humerous. The mystery surrounding Dr. Fell was engaging enough to be a page turner. Parents and educators alike will appreciate the vocabulary words that Neilsen sprinkles throughout the book. Some of the words include: fortuitous, revelry, whippersnappers, urchins, chasm,cherub, stout, and rapscallions.
I found this to be refreshing. With the vocabulary and the story itself, I could see this book being a great candidate for a read aloud book for a class.
Triggers for Reader's Advisory
This is definitely a spooky story. I would recommend it for kids 4th grade and up.
For reader's advisory, I must note that there is one swear word. Please note, however, that it is natural for this story.
If it were a movie, it would get a PG rating, but when using books in school setting and in the library, we must make note of this.
Overall
I would highly recommend this book. Often, I get requests for mystery / horror books in middle grade. There is only a select few within this genre that kids will read. I feel like this book will be a well received by my tweens and will a breath of fresh air to this genre.
I look forward to seeing what other works Mr. Neilsen comes out with. He has quickly become one of my 2016 favorites.
Books like this one: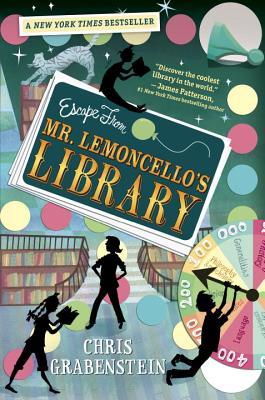 Have you read it yet? What did you think?
-Pamela
*Please note that I received an advance reader's copy of this title from the author in exchange for an honest review*